Happy monday, everyone! I hope your weekend was wonderful!
Let's just jump right in, shall we? Today I am bringing you three things I
didn't
think last week...
I didn't think that I'd miss N so much during the week. We've worked together since we started dating almost 3 years ago and I hadn't thought much of it. It's just strange going through the whole day not seeing him when I used to see him all the time. Don't get me wrong, the alone time is nice (and good for us), but it is an adjustment.
I didn't think that I would get sick. Naive little me. N was sick all week but I boasted my wonderful immune system. Blah blah blah, my immune system dominates. Rawr. But Saturday dawned with a fever and chills and a sore throat. So I laid in bed and drank my Emergen-C and was feeling better by Sunday. Sickness: crushed.
SideNote
: guys are babies about being sick, that's all there is to it.
I didn't think that I would succumb to the obsessive-ness of blogg-y (and etsy) things. I spent all last week up until 3AM reading, writing posts, making things, photographing, playing with photoshop, you name it! And even come 3, I wasn't ready to go to sleep. I was too hyped up on BLOGS. Say what?! That's what I call doing something enjoyable. But really, I need more sleep. But I'm not mad about it.
Sooo, sorry/you're welcome for the shortest Over The Weekend Post to date.
Now hear a little bit from my newest sponsor: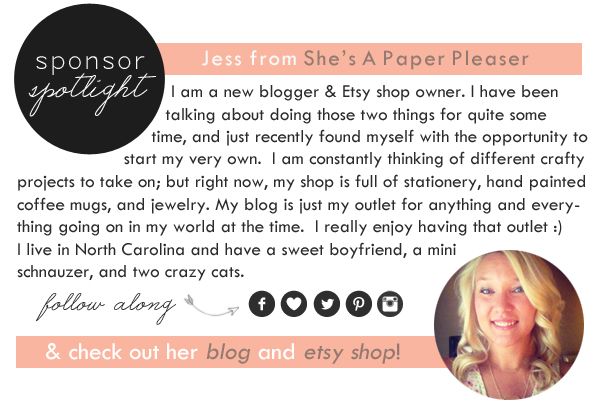 So join me in welcoming Jess to ze blog this month and pop on over and say hi! I'm telling ya, you need to check out her etsy shop, it's super cute and I am eying some of her earrings, especially
these guys
. Anyway... I'm super excited to have her!